Back
10 Essential Apps for Running a Web Design Agency
Posted by
David Appleyard
in Business category
Finding clients, managing projects, tracking team progress, organizing finances. Running a web design business is no walk in the park.
Thankfully, you're not living in 2005 anymore. Today, everything can be managed on the cloud. And running a successful business is all about knowing which apps your company need to use.
Of course, you already know all that. But, it's easy for anyone to get lost and lose money while trying to find the perfect set of apps for running their business because there are way too many options out there.
So, to make things less complicated for you, we hand picked 10 essential apps every web design company needs to not only keep the business well organized, but also to improve productivity and save time.
Basecamp
This project management app has been around since 1999. It's one of the most popular and efficient project management tools you can find online.
You can think of Basecamp as a virtual space where your team can get together to work on projects, keep each other up-to-date, and keep the client work organized.
Basecamp consists of six tools: Message boards and comment threads, real-time chat, automatic check-ins, to-do lists, docs & file storage, and a scheduling system.
You can get started with Basecamp for free. For doing team work, it will cost $29/month and $79/month for using Basecamp with clients.
Slack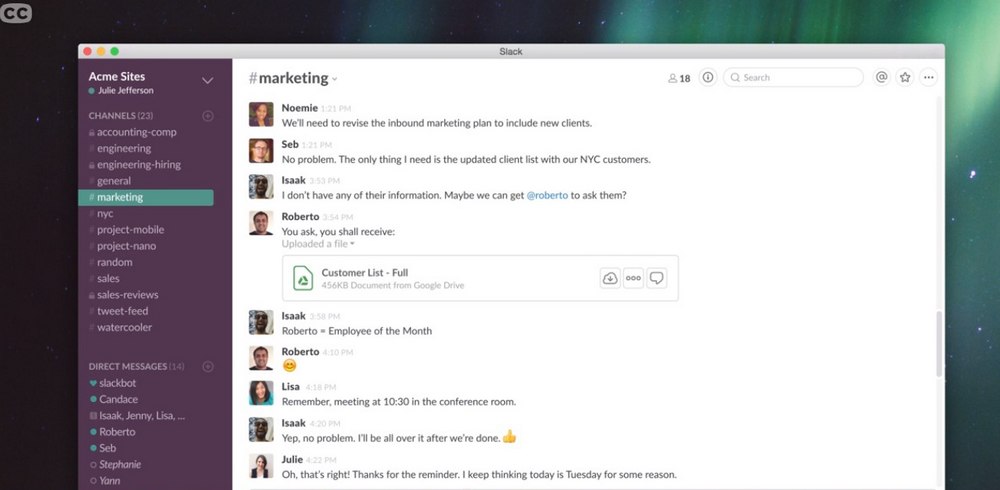 You may have already heard of this app. Some are calling it the "email killer" and the app definitely deserves that name.
Plenty of companies are now replacing emails with Slack because this app makes things much easier for you to communicate with your team.
When using Slack, you won't have to send emails to everyone on your team each time when you have to announce a small change to a project. Slack will bring your team into one place so they can openly communicate and stay updated throughout projects.
According to Slack, their customers see an average 48.6% reduction in internal email.
Slack has a free plan with limited features for small teams. For unlimited features, you can sign up with the $8 per month plan.
Igloo
Igloo is an intranet software. But, it's nothing like those old locally networked intranets most companies have. With Igloo, your intranet runs on the cloud.
Using this app, you can easily manage your team, assign tasks to members, keep projects organized, and review their work, all in one place.
Igloo is perfect for managing a remote team or even keeping track of your team without having to be in the office all day long.
For small teams, Igloo will cost $12 per user, per month. For larger companies, it's $6 per user, per month.
Dropbox Business
Dropbox revolutionized the way we manage files and data when it first launched the cloud storage service for individuals. Now, the service has a version for teams.
Dropbox Business is a cloud storage service for companies, which you can use to safely store your valuable data, project files, and client information while easily sharing them with your team and clients.
With Dropbox Business, you'll also be able to check on the files your team members are working on, by just logging in to your Dropbox account.
Dropbox Business plan starts at 5 users and costs $12.50 per user, per month.
MAMP
MAMP is a software that lets you install your own webserver on your computer for testing and managing your websites locally.
With this app, you can make changes to websites you're working on and preview the changes without having to upload the files to an online web server each time.
MAMP is free to download and use. The software supports both Mac and Windows. Its Pro version costs $59 and allows you to install multiple local servers on your computer.
GoToMeeting
Why waste half of your day visiting clients and hosting meetings when you can easily meet your clients online.
GoToMeeting is an HD video conferencing app, one that you can use to host professional and secure meetings with clients or with your team online. The platform provides a much smoother and safer environment for doing meetings than other common services like Skype.
GoToMeeting is free for hosting meetings of up to 3 participants. It's $19 per month plans lets you host meetings with up to 10 participants and up to 50 participants with the $29 per month plan.
Parallels Desktop
Testing your websites on different operating systems and browsers is important for making sure that you deliver flawless results for your clients. But this process can be difficult for small web design companies because Mac and Windows platforms don't work well together.
Parallels Desktop is an impressive app that will help solve that problem by bringing fully-functioning Windows desktop environment to your Mac computer. Using this app, you can run Windows on Mac without having to change or format the computer.
You can even use the app to run other operating systems like Linux and Google Chrome OS.
For personal and home use, Parallels Desktop costs $79. For developers, the Parallels Desktop Pro edition costs $99.99 per year.
1Password
Running a web design company means signing up with dozens of websites and online services, which involves too many usernames and passwords that you won't be able to remember.
1Password will solve that problem by helping you manage all your usernames and passwords in one place so that you will never have to worry about forgetting passwords ever again.
1Password for Teams costs $4.99 per user, per month and it will let you access your entire team's passwords so that you can secretly check in on their activity from time to time.
Freshbooks
FreshBooks will help you manage your business accounting and financial details from one place. It will let you keep track of your expenses, bank records, and even create reports.
Although, the best feature of this app is the ability to generate invoices. You can even connect a payment processor, like PayPal or Stripe, with Freshbooks to let your clients make payments directly on your invoices.
Freshbooks costs $12.95 for billing up to 5 clients per month, $19.95 for billing 20 clients per month, and $29.95 for billing up to 200 clients per month.
RescueTime
RescueTime is a productivity app that will help you keep a better work-life balance.
The app runs in the background of both your computer and phone, tracking how much time you spend on websites and apps. And then it will give you a detailed report at the end of each day for organizing your schedule and spotting your bad habits.
RescueTime is free to use, but the $9 per month Pro version comes with advanced features, like the ability to block websites, and track time offline.
The affordability is the best of part of these apps. You can easily get started with all these apps without having to spend a fortune and run your design company smoothly like a pro.