Back
25+ Best Design Agency Websites of 2017
Posted by
David Appleyard
in Business category
Planning on designing a website for your agency, or maybe revamping your old site? Well, you came to the right place. After browsing the web for the best talent, we found a set of the most attractive and innovative, best design agency websites to show you how some of the other design agencies are doing it.
Take a closer look at these sites and use them as your inspiration, notice how these design agencies stand out from the crowd, and learn about what type of technologies they use. Then design your own agency website like no one has ever seen before. Web design trends may come and go, but if you aim high enough your website will be remembered for a long time.
The Best Design Agency Websites
Elegant Seagulls
This brilliant design agency has tapped into their creative minds to design its website to represent the brand in a fun and a colorful way while also keeping a minimal look throughout the website.
Creative Payne
A website is worth a thousand words. This creative graphic design agency says a lot about themselves with their artistic website homepage.
Sweet Punk
Most web designers hate using video backgrounds, but this French creative design agency pulls it off perfectly with its highly entertaining website. Be warned, you'll have a hard time taking your eyes off of this website.
Mooze Design
Simplicity is the key takeaway of this agency website. Color consistency and clever use of graphics make this design agency website stand above the rest.
LegWork
You can guess the name of this interactive design agency by just looking at its homepage. That hilarious animation says it all. The website also uses a few video and CSS animations as well.
Dogstudio
Who says homepage sliders are outdated? The web design agency, Dogstudio, uses its homepage slider to showcase its portfolio in a creative way. The company also uses very strong language throughout the website to freely express themselves.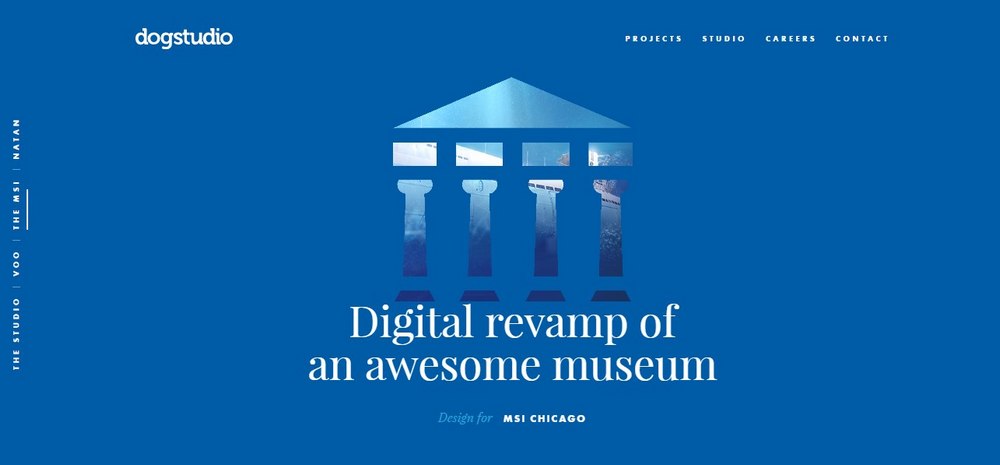 Use All Five
LA-based design agency, Use All Five, uses a minimalist website design to show off its brand identity. As you can see, sometimes, a simple background animation can say a lot about the creative side of a company.
Impossible Bureau
This design and development agency will show you that it's not "impossible" to come up with fun original ideas. Instead of using the same old web design style standards, Impossible Bureau uses a unique structure in its design to let users browse the website in a refreshingly easy way.
Bigger Picture
The UK-based design agency, Bigger Picture, uses amazing and realistic looking animations throughout its website design. If you want to offer an unforgettable experience to your website visitors, design your agency website to look like this.
Pixel Wrapped
Using colorful illustrations is a rising trend in the web design industry. Pixel Wrapped is a web design agency that uses this trend to instantly relate with the users using cats and a colorful full-screen illustration.
Oleg Chulakov Studio
Yet another stylish website that uses a mix of animated and video backgrounds to grab user attention. Although, the most interesting feature of this agency website is its navigation system, which allows you to browse the company portfolio by simply dragging the pages sideways.
Garden Estudio
The use of flat design and the gorgeous color combination of this website makes it truly one of a kind. The website also uses simple CSS animations to improve the user experience.
Push. Agency
This creative design agency does a clever job of humanizing its brand and the company by putting their team in the spotlight. The website also uses one-page scrolling to showcase the portfolio in full-screen.
MamboMambo
You can definitely learn a thing or two about background animations from this design studio website. And notice the use of vivid colors across the entire website.
NEVERBLAND
If you're a fan of minimalist designs, you'll definitely fall in love with the NEVERBLAND website. This site uses lots of space to offer a clean look to its website homepage.
Amazee Labs
The big bold typography is the specialty of this website. Most designers get font combinations terribly wrong, but not this Drupal developer agency. They've nailed it.
Huge
This design agency does an impressive job showcasing its identity throughout the website. Notice the shape of the letter "H" in those "huge" animations.
Mixd
There's no need to try and reinvent the wheel, you just need to create beautiful and functioning designs. The web design agency, Mixd, illustrates this perfectly with its simple, yet meaningful, website design.
Carbon Studio
The website for this UK based design studio is filled with adorable illustrations.
Viens-la agency
Folks over at the Viens-la agency seems to be big fans of Freddie Mercury. You can see his face all over the website. But, what's more entertaining is their brilliantly orchestrated background video. You must see it to believe it.
Nation
Yet another design agency website that proudly uses bold typography to catch the user attention.
Soup Agency
The Soup Agency website features an unusual browsing experience. The website is made to be viewed from bottom to top. Once the website is fully loaded, it will take you to the bottom of the website, where the website experience starts. Looks like it's OK to break a few rules, sometimes.
Media On Mars
This creative design agency shows how being different can help you get more attention.
We Are Soak
The water ripple effect on the background of this website is quite fascinating. Try moving your mouse around the web page. It actually goes well with the company name.
Yarn
The creative design agency, Yarn, also uses bright and colorful illustrations throughout their website mixed with a hint of CSS animations.
Ever
Some might think that this agency is taking minimalism too far, but once you visit the homepage you will feel a strong urge to scroll down. After all, isn't that our end goal?
Now, do you feel like you're ready to take on your own agency website design? Good. Going with the gut feeling is the best way to achieve greatness. And remember, never stop innovating. Use these examples of the best design agency websites to inspire your own creativity, and enjoy the process!